Jaw-dropping research explains how mouth forms

Whitehead Institute researchers have identified the pre-mouth area in faces of developing embryonic frogs. This area "unzips" to form the mouth. The research highlights the precision needed to create a mouth and identifies the processes driving mouth formation.
---
"All biological holes or openings that form in the embryo, are fascinating because they can become catastrophic wounds if not precisely formed. Known as a 'scheduled hole,' the mouth is a crucially important example.

"Mouth formation involves many steps that ensure the opening happens at the right time and in the right place. Cells must connect at the correct junction exposed to the outside, there an opening joins them to a prepared region, the mouth connects to the digestive system. This process is initiated in frogs several days before the mouth opens."

Hazel Sive PhD, Whitehead Institute for Biomedical Research; Massachusetts Institute of Technology, Cambridge, both in Massachusetts, USA.
---
The Sive lab has studied mouth formation in Xenopus frogs for many years. Mouth formation occurs early in embryonic development and is highly conserved across species. Model organisms such as frogs and fish therefore, provide insights into developmental events difficult to observe in humans.
In the most recent work published in Cell Reports, Sive lab researchers monitored a region of the embryo known as the Extreme Anterior Domain (EAD). Within the EAD, Sive has identified the earliest element in facial development; researchers noted how a group of cells reorganized to form a "pre-mouth array," indicating where a mouth opening will later form.
---
The pre-mouth array begins as a square, eight cells wide and eight cells high. It then morphs into a two-cell wide by twenty-cell tall column.

This transformation is called convergent extension, and is crucial to embryo cell reorganization.

As the frog larvae begins to feed, two rows of cells unzip the column surrounding the oral opening connecting the digestive system to the larvae's outside cell layer.
---
The team observed that a pre-mouth begins to form as 'neural crest' cells (which later form bones and muscles in the face) arrange themselves on either side of the EAD. Researchers believe the 'neural crest' cells send a signal to the EAD cells instructing them to reorganize and form the pre-mouth array.

Supporting this idea, researchers show how neural crest cells are influenced by the Wnt/PCP signaling pathway, specifically the Wnt11 signal, which triggers the array formation. The WNT gene family is made up of genes that secrete signaling proteins. These proteins are implicated in embryo development including regulating cell fate and patterning within embryos.
---
"If we hope to understand why craniofacial anomalies happen in humans and how to treat them at an earlier point to avoid years of surgery and orthodontics, we need to obtain a better handle on what's going on. Recognizing what is required to form a mouth and face and how it is regulated, is a step toward understanding how these processes can be disrupted."


Jacox DMD - PhD,Whitehead Institute for Biomedical Research, Cambridge; Massachusetts Institute of Technology, Cambridge; Harvard School of Dental Medicine, Boston; Harvard-MIT Health Sciences and Technology Program, Harvard Medical School, Boston; Biological Sciences in Dental Medicine Program, Harvard Graduate School of Arts and Sciences, Cambridge, Massachusetts, USA and co-author of the Cell Reports paper, soon to be a resident in orthodontics at the University of North Carolina Chapel Hill.
---
Abstract Highlights
•A Xenopus pre-mouth cell array splits down the midline to surround the oral opening
•The pre-mouth array forms by convergent extension of EAD ectoderm
•EAD morphogenesis is directed by adjacent cranial neural crest
•Wnt/PCP signaling is necessary and sufficient to elicit EAD convergent extension

Summary
The mouth arises from the extreme anterior domain (EAD), a region where the ectoderm and endoderm are directly juxtaposed. Here, we identify a "pre-mouth array" in Xenopus that forms soon after the cranial neural crest has migrated to lie on either side of the EAD. Initially, EAD ectoderm comprises a wide and short epithelial mass that becomes narrow and tall with cells and nuclei changing shape, a characteristic of convergent extension. The resulting two rows of cells—the pre-mouth array—later split down the midline to surround the mouth opening. Neural crest is essential for convergent extension and likely signals to the EAD through the Wnt/planar cell polarity (PCP) pathway. Fzl7 receptor is locally required in EAD ectoderm, while Wnt11 ligand is required more globally. Indeed, heterologous cells expressing Wnt11 can elicit EAD convergent extension. The study reveals a precise cellular mechanism that positions and contributes to the future mouth.

Authors: Laura Jacox, Justin Chen, Alyssa Rothman, Hillary Lathrop-Marshall, and Hazel Sive

This work was supported by the National Institute of Dental and Craniofacial Research (NIDCR 1R01 DE021109-01 and F30DE022989) and Harvard University's Herschel Smith Graduate Fellowship.
Hazel Sive's primary affiliation is with Whitehead Institute for Biomedical Research, where her laboratory is located and all her research is conducted. She is also a professor of biology at Massachusetts Institute of Technology.
Full Citation:"Formation of a ''pre-mouth array'' from the extreme anterior domain is directed by neural crest and Wnt/PCP signaling"; Cell Reports, August 2, 2016.
Aug 16, 2016 Fetal Timeline Maternal Timeline News News Archive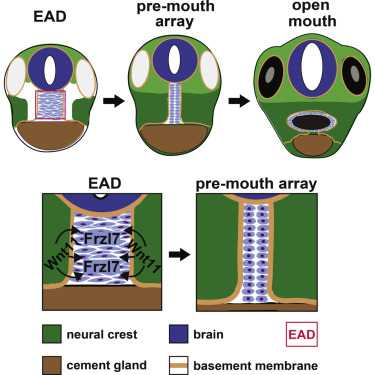 The Xenopus pre-mouth begins 8 cells wide and high, and morphs into a two-cell wide
by twenty cell tall column, which indicates where the mouth opening will later form.
Image Credit: Harvard University, Dental Medicine