Ovo protein same across species

Japanese researchers have found the protein — Ovo — in egg and sperm cells within mice and fruit flies. This suggests Ovo is evolutionarily conserved as a mechanism for reproductive cells in all animal species.
---
Germline cells are the only cells that develop into eggs or sperm. Somatic cells develop into the body proper. Progenitor cells for the germline, known as primordial germ cells (PGCs), originate in the primitive streak and migrate via the gut of an embryo into its developing gonads. There, they undergo meiosis, followed by cell differentiation into mature gametes, either eggs or sperm.

The expression of a select group of genes occurs in the PGCs of a number of different animal groups, which indicates a possible conserved germline gene mechanism across species. The conserved transcription factor protein Ovo is required for the expression or function of these select genes.
---
What was unclear was — is Ovo needed for normal germline development of the fruit fly (Drosophila), or is there a related mouse protein playing a similar role in mouse embryos?

Now, research by the University of Tsukuba has identified the evolutionarily conserved mechanism for controlling germline development and can say confidantly, it does involve Ovo.
---
The study was published in Scientific Reports.
The ovo gene of Drosophila encodes three proteins, of which Ovo-B is the most abundant in primordial germ cells or PGCs. Researchers used Ovo-A protein to block the function of Ovo-B, and observed that both male and female Drosophila had underdeveloped reproductive organs when Ovo-B was blocked from functioning.
"We next compared Drosophila PGCs lacking Ovo-B function with normal PGCs, and identified 510 genes that showed increased expression [function], including several involved in the development of somatic tissues and organs of the body," corresponding author Satoru Kobayashi adds. "This suggested to us that within PGCs, Ovo-B suppresses expression of genes that are active in somatic cells [which form the body of a mouse]."
In contrast, based upon previously published data combined with their current findings, the team found that Ovo-B switches on expression [function] of key germline genes. To examine the role of the related mouse protein Ovo l2, researchers studied mice with and without it.
---
"In the absence of Ovo l2, no change was seen in the somatic development of the mouse at an early embryonic stage. However, very few PGCs were observed, suggesting that Ovol2 is required for germline [sex cell] development."

Kobayashi PhD, Life Science Center of Tsukuba Advanced Research Alliance (TARA Center), University of Tsukuba; and the Graduate School of Life and Environmental Sciences, University of Tsukuba, Tsukuba, Ibaraki, Japan
---
The similarity between defects seen in both mice and Drosophila (fruit fly) lacking the Ovo function indicates a conserved role for Ovo protein in controlling germline development in both species. This leads the team to speculate that Ovo is involved in regulating common genes for germline development, and perhaps across all animal species.
Abstract
Ovo, which encodes a transcription factor with Zn-finger domains, is evolutionarily conserved among animals. In Drosophila, in addition to its zygotic function for egg production, maternal ovo activity is required in primordial germ cells (PGCs) for expression of germline genes such as vasa and nanos. In this study, we found that maternal Ovo accumulates in PGC nuclei during embryogenesis. In these cells, ovo serves a dual function: activation of genes expressed predominantly in PGCs, and conversely suppression of somatic genes. Reduction of ovo activity in PGCs makes them unable to develop normally into germ cells of both sexes. In mice, knockout of the ovo ortholog, Ovol2, which is expressed in PGCs, decreases the number of PGCs during early embryogenesis. These data strongly suggest that ovo acts as part of an evolutionarily conserved mechanism that regulates germline development in animals.
The article, "Conserved role of Ovo in germline development in mouse and Drosophila" was published in Scientific Reports at DOI: 10.1038/srep40056
Return to top of page
Feb 2, 2017 Fetal Timeline Maternal Timeline News News Archive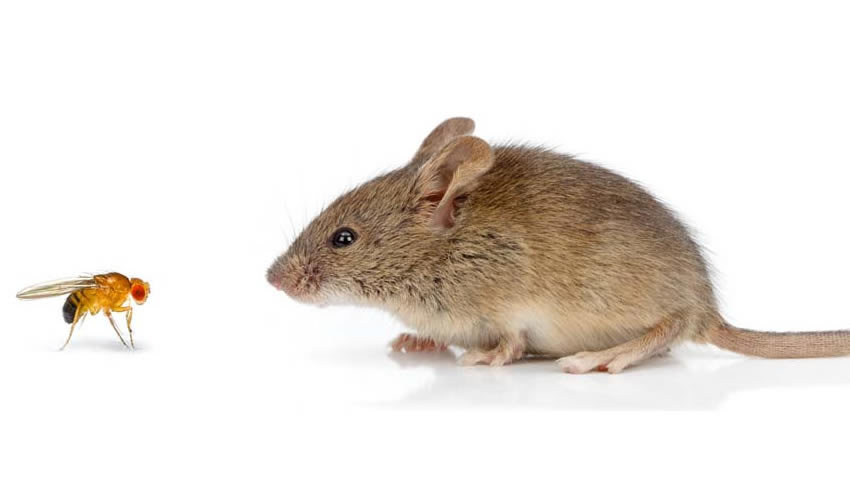 At gastrulation, a small group of cells are "put aside" to later form oocytes and spermatozoa.
They are called: primordial germ cells. In primordial germ cells, Ovo-B protein suppresses the function of somatic [body cell] genes, while Ovo l2 is required for germline [sex cell] development - across animal species.
Image Credit: Scientific Reports