Preemies don't use 'top-down sensory prediction'

Babies born prematurely don't use expectations about the world to shape their brains. Full term babies do. New evidence of how important neural processing is to brain development.
---
In 6-month-old babies born at their 'due' or 'term' date, portions of their brain responsible for visual processing respond not just to what the baby sees — but also to what the baby expects to see.

That's a sign babies are learning from their experiences, according to Lauren Emberson PhD, assistant professor of psychology at Princeton. But babies born prematurely do not demonstrate this type of brain response, also known as top-down processing. These findings offer clues to the mystery of why otherwise healthy babies born prematurely face higher risk of developmental delays as they grow, according to researchers at Princeton University, the University of Rochester Medical Center and the University of Rochester.
Their study appears Jan. 26 in the journal Current Biology.
"This helps bring together the picture that this type of processing is important for neural development," Emberson adds. "it gives us insights into what might be going wrong in the case of prematurity. We believe this inability for learning to shape the brain is possibly one of the reasons."
Researchers tested 100 babies, split into two groups: those born at full term and those born prematurely. Babies were tested at 6 months of age, based on their conception dates.
---
Babies were exposed to patterns that included a sound — a honk from a clown horn or a rattle — followed by an image of a red cartoon smiley face. Then, functional near-infrared spectroscopy — light — was used to measure the oxygen in their brains, to assess each babies' brain activity.
---
Both full term and premature infants were shown sound-and-image patterns in sequences. Then, researchers began omitting just the image, not the sound, at varying times. In full-term infants, light beams bounced on their brains detected activity in visual areas even when the image didn't appear as it had previously. This brain activity is a sign that full-term infants anicipated seeing the familiar pattern of sound-and-image together. Also called a top-down sensory prediction.

However, even though separate behavioral tests confirmed that preterm infants detect pattern violations at the same rate as full-term infants, there was no visual brain activity in brains of premature babies anticipating the missing images previously attached to sounds. This establishes that the selectivity of this response to top-down predictions was missing.
Emberson believes his research sets the stage for more work to understand how top-down processing helps babies learn — and how a lack of top-down processing may relate to developmental delay in preemies. Today, developmental delay for a child may only be officially recognised after a child hasn't used words by age 2.
---
"Developmental sciences knows these missed milestones don't happen in the moment. They're happening in the months and years leading up to that.

"By looking much earlier and being able to show how these differences in learning shape the brain, maybe we can know much sooner which babies are likely to have problems."

Lauren Emberson PhD, Assistant Professor, Department of Psychology, Princeton University, Peretsman-Scully Hall, Princeton, New Jersey, USA
---
Charles Nelson, professor of pediatrics and neuroscience at Harvard Medical School and professor of education at Harvard University, believes this research highlights the importance of examining potential links between early brain development and later learning difficulties. He adds: "This work has important implications for the thousands of infants born early but healthy, a group that does not typically receive a great deal of attention."
Abstract
Highlights
•Prediction has been proposed to be essential for human development
•Infants at risk due to premature birth exhibit deficits in prediction
•Neural deficits were specific to prediction, and not to simple learning or perception
•Deficits were found early in development, suggesting a causal role for prediction

Summary
A prominent theoretical view is that the brain is inherently predictive [ 1, 2 ] and that prediction helps drive the engine of development [ 3, 4 ]. Although infants exhibit neural signatures of top-down sensory prediction [ 5, 6 ], in order to establish that prediction supports development, it must be established that deficits in early prediction abilities alter trajectories. We investigated prediction in infants born prematurely, a leading cause of neuro-cognitive impairment worldwide [ 7 ]. Prematurity, independent of medical complications, leads to developmental disturbances [ 8–12 ] and a broad range of developmental delays [ 13–17 ]. Is an alteration in early prediction abilities the common cause? Using functional near-infrared spectroscopy (fNIRS), we measured top-down sensory prediction in preterm infants (born <33 weeks gestation) before infants exhibited clinically identifiable developmental delays (6 months corrected age). Whereas preterm infants had typical neural responses to presented visual stimuli, they exhibited altered neural responses to predicted visual stimuli. Importantly, a separate behavioral control confirmed that preterm infants detect pattern violations at the same rate as full-terms, establishing selectivity of this response to top-down predictions (e.g., not in learning an audiovisual association). These findings suggest that top-down sensory prediction plays a crucial role in development and that deficits in this ability may be the reason why preterm infants experience altered developmental trajectories and are at risk for poor developmental outcomes. Moreover, this work presents an opportunity for establishing a neuro-biomarker for early identification of infants at risk and could guide early intervention regimens.

Keywords: development, perception, learning, prediction, prematurity, fNIRS, infant, audiovisual, multisensory
The research was supported by funding from the National Institutes of Health and the National Science Foundation.
Return to top of page
Feb 8, 2017 Fetal Timeline Maternal Timeline News News Archive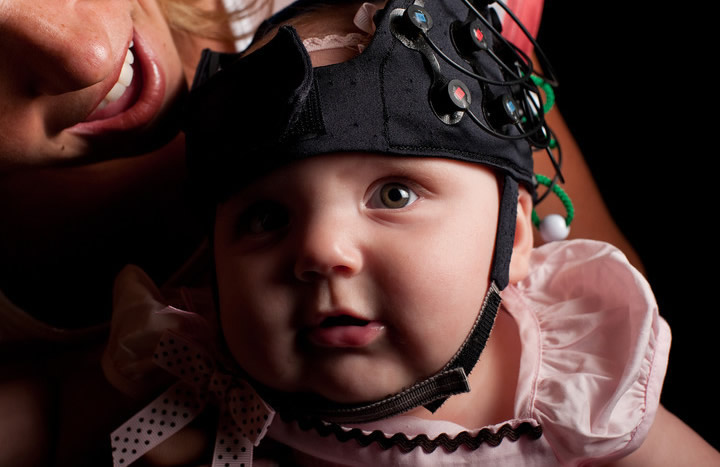 Babies born prematurely do not demonstrate top-down brain processing.
Image Credit:Princeton Baby Lab