Malaria drug protects fetus from Zika infection

In late 2015, when doctors in Brazil began to notice a surge in the number of babies born with microcephaly, the epidemic was soon linked to the mosquito-borne Zika virus spreading through the tropical parts of the Americas. But, doctors could only advise pregnant women to avoid mosquito bites by wearing bug spray and long-sleeved clothing. There were, and still are, no drugs or vaccines approved for use in pregnant women to protect them or their fetuses from Zika.
---
The developing fetus is uniquely vulnerable to damage from infection, so the body mobilizes all of its defenses to keep the microbes from ever reaching the fetus in the first place. The placenta is the last line of defense.

Indira U. Mysorekar PhD, in the department of Obstetrics and Gynecology at Washington University School of Medicine, St. Louis, Missouri and her team knew that the process known as autophagy — or how the cell disposes of waste by grinding up debris and unwanted organelles as well as invading microbes — is an important part of the placenta's barrier to infection. However, previous studies by Mysorekar and others showed that Zika not only can invade the placenta, but also multiply there.

Hydroxychloroquine, a drug approved by the Food and Drug Administration to treat malaria and certain autoimmune diseases in pregnant women, appears to reduce transmission of Zika from pregnant mice moms to their fetuses, according to a study funded in part by the National Institutes of Health. The drug works by inhibiting autophagy.

Mysorekar's team infected two groups of pregnant mice with Zika: one in which the autophagy process was disrupted and the other in which it worked normally. Five days after being infected, the mothers with a weak autophagy response had about the same amount of virus in their bloodstreams as the mice with a normal response. However, in mice with a weak autophagy response, the researchers found 10 times less virus in the placenta and heads of the fetuses, as well as less damage to the placentas.
---
As hydroxychloroquine suppresses the autophagy response, the research team questioned whether it might also protect fetuses against Zika.
---
To find out, they repeated the experiment using only mice with a normal autophagy response. Female mice at day nine of pregnancy were infected with Zika and then dosed with hydroxychloroquine or a placebo every day for the next five days. Their study appears online in the Journal of Experimental Medicine.

Following treatment, the researchers found significantly less virus in the fetuses and placentas of mice receiving hydroxychloroquine. The placentas also showed less damage and fetuses appearing normal in growth attributes. Both the untreated and the treated mothers had about the same amount of Zika virus in their bloodstreams, indicating that hydroxychloroquine was indeed able to protect fetuses even with active virus circulating through the mother.
---
"We found that the malaria drug hydroxychloroquine effectively blocks viral transmission to the fetus. This drug already is used in pregnant women to treat malaria, and we suggest that it warrants evaluation in primates and women to diminish the risks of Zika infection and disease in developing fetuses."



Indira Mysorekar PhD, Associate Professor, Obstetrics and Gynecology, Pathology and Immunology, Washington University School of Medicine, St. Louis, Missouri, USA, and senior author.
---
Although hydroxychloroquine has been used safely in pregnant women for short periods of time, Mysorekar cautions that further studies are needed before it can be used throughout an entire pregnancy. Pregnant women living in areas where Zika circulates may need to take a drug for the duration of their pregnancies.
---
"We urge caution, but nevertheless feel our work provides an avenue for therapeutic intervention. Our study suggests an autophagy based therapeutic against Zika may be warranted in pregnant women infected with the virus."



Indira Mysorekar PhD, who is also Co-Director of the Washington University School of Medicine Center for Reproductive Health Sciences.
---
Abstract
Zika virus (ZIKV) infection during pregnancy leads to devastating fetal outcomes, including intrauterine growth restriction and microcephaly. Greater understanding of mechanisms underlying ZIKV maternal-fetal transmission is needed to develop new therapeutic interventions. Here, we define an important role for the autophagy pathway in ZIKV vertical transmission. ZIKV infection induced autophagic activity in human trophoblasts and pharmacological inhibition limited ZIKV infectivity. Furthermore, deficiency in an essential autophagy gene, Atg16l1, in mice limited ZIKV vertical transmission and placental and fetal damage and overall improved placental and fetal outcomes. This protection was due to a placental trophoblast cell-autonomous effect of autophagic activity, not to alterations in systemic maternal ZIKV infection. Finally, an autophagy inhibitor, hydroxychloroquine, approved for use in pregnant women, attenuated placental and fetal ZIKV infection and ameliorated adverse placental and fetal outcomes. Our study reveals new insights into the mechanism of ZIKV vertical transmission and suggests that an autophagy-based therapeutic warrants possible evaluation in humans to diminish the risks of ZIKV maternal-fetal transmission.
This work was supported by a Preventing Prematurity Initiative grant from the Burroughs Wellcome Fund and a Prematurity Research Initiative Investigator award (21-FY13-28) from the March of Dimes (to I.U. Mysorekar), National Institutes of Health/Eunice Kennedy Shriver National Institute of Child Health and Human Development grants R01HD091218 (to I.U. Mysorekar and M.S. Diamond) and R01 AI073755 and R01 AI104972 (to M.S. Diamond). The authors declare no competing financial interests.
The study received additional funding from the Burroughs Wellcome Fund, the March of Dimes and NIH's National Institute of Allergy and Infectious Diseases.

Reference: Cao B, et al. Inhibition of autophagy limits vertical transmission of Zika virus in pregnant mice. Journal of Experimental Medicine. 2017.

About the Eunice Kennedy Shriver National Institute of Child Health and Human Development (NICHD): NICHD conducts and supports research in the United States and throughout the world on fetal, infant and child development; maternal, child and family health; reproductive biology and population issues; and medical rehabilitation. For more information, visit NICHD's website.

About the National Institutes of Health (NIH): NIH, the nation's medical research agency, includes 27 Institutes and Centers and is a component of the U.S. Department of Health and Human Services. NIH is the primary federal agency conducting and supporting basic, clinical, and translational medical research, and is investigating the causes, treatments, and cures for both common and rare diseases. For more information about NIH and its programs, visit http://www.nih.gov


Return to top of page
Jul 18, 2017 Fetal Timeline Maternal Timeline News News Archive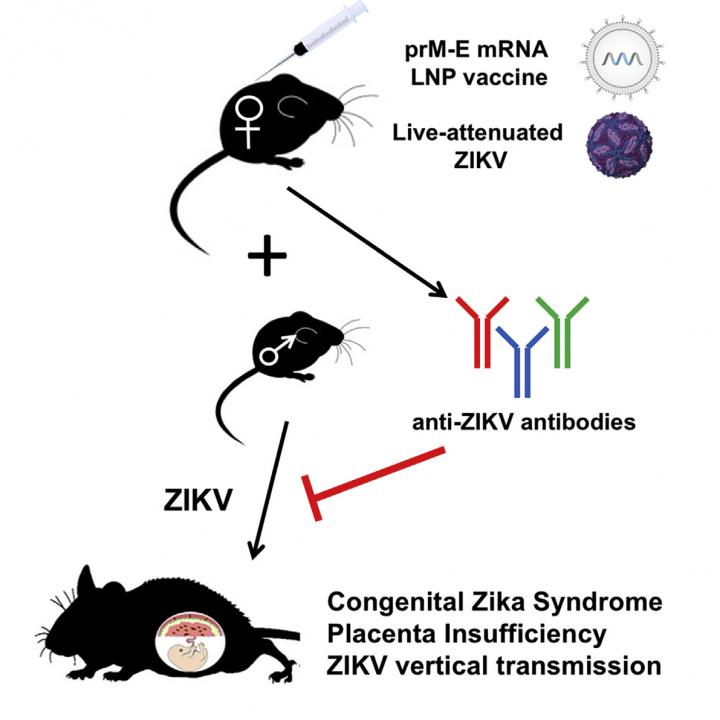 Two vaccines administered to mice prior to Zika infection and pregnancy induce
neutralizing antibodies and restrict in utero virus transmission, placental damage
and fetal demise. Image Credit: JM Richner et al./Cell