In late pregnancy, sleep on your side not your back

A pregnant mother sleeping on her back during late pregnancy may cause problems for her fetus...
---
According to new research published in The Journal of Physiology the first study to monitor unborn babies overnight and at the same time record the mother's position during sleep.

Using an infrared video camera, researchers at the University of Auckland, New Zealand, investigated sleep position of pregnant women by continuously recording mother and fetus as they slept. They also recorded both mother and fetal heart rates overnight.
---
Each fetus became less active when a mother slept on her back.
---
Fetal activity is one measure of its wellbeing. Babies were only active when the mother was on her left or right side. When the mother changed position during her sleep, for example changing from her left side to sleeping on her back, the baby quickly changed activity as well to became quiet or still.

The research oberved 30 pregnant women at 34 to 38 weeks gestation. All of the women were healthy with healthy babies. Researchers are now investigating pregnancies where the fetus is not growing properly or the mother has reported decreased fetal movements, as both situations are associated with an increased risk for stillbirth.
---
We are suggesting there is now sufficient evidence to recommend mothers avoid sleeping on their back in late pregnancy, not only because of the epidemiological data but also because we have shown it has a clear effect on the baby.



Peter R. Stone PhD, Director and Professor, Department of Obstetrics and Gynaecology, The University of Auckland, New Zealand and one of the lead investigators on the study.
---
Abstract
Background
Fetal behavioural states (FBS) are measures of fetal wellbeing. Maternal position affects FBS with supine being associated with an increased likelihood of fetal quiescence consistent with the human fetus adapting to a lower oxygen consuming state. A number of studies now confirm the association of sleep position with risk of late intrauterine death. We designed this study to observe the effects of maternal sleep positions overnight in healthy late gestation pregnancy.

Method
Twenty nine healthy women had continuous fetal ECG recordings overnight. Two blinded observers, assigned fetal states in 5 minute blocks. Measures of fetal heart rate variability (FHRV) were calculated from ECG beat to beat data. Maternal position was determined from infrared video recording.

Results
Compared to state 2F (active sleep), 4F (active awake-high activity) occurred almost exclusively when the mother was in a left or right lateral position. State 1F (quiet sleep) was more common when mother was supine (OR 1.30, 95%CI, 1.11-1.52) and less common on maternal right side with the left being referent position (OR 0.81, 95%CI, 0.70-0.93). State 4F was more common between 2100 and 0100 than between 0100 and 0700 (OR 2 2.83, 95%CI, 2.32-3.47). In each fetal state, maternal position had significant effects on fetal heart rate (FHR) and measures of FHRV.

Conclusion
In healthy late gestation pregnancy, maternal sleep position affects FBS and heart rate variability. These effects are likely fetal adaptations to positions which may produce a mild hypoxic stress.

Authors: Peter R. Stone, Wendy Burgess, Jordan McIntyre, Alistair J. Gunn, Christopher A. Lear, Laura Bennet, Edwin A Mitchell, John M. D. Thompson

Return to top of page
Oct 25, 2017 Fetal Timeline Maternal Timeline News News Archive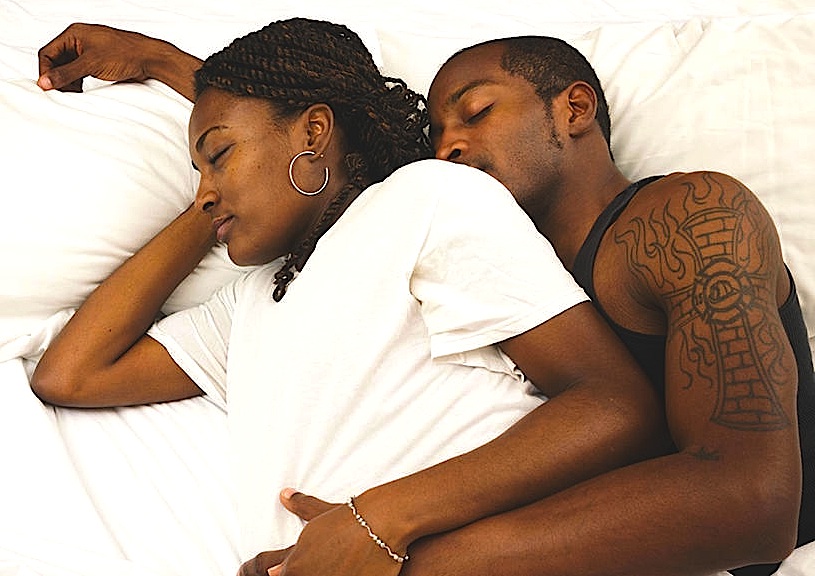 Mothers in late pregnancy, 34 to 38 weeks, were monitored as they slept to measure
fetal movement and heart rate for both. Image from the public domain.